If you're like me, then you've been anticipating the new Barbie movie for over a year and are excited to show up to the movie theatre decked out in head-to-toe pink.
Those who love Barbie know she truly is everything. A doctor, an athlete, a mermaid, a president, a movie star; she's every woman, the ultimate girl boss. Ken on the other hand is just happy to be there, a supportive boyfriend and Barbie's ultimate cheerleader.
You know how in celebrity relationships one partner is referred to as so-so's husband or wife, usually when one party is more famous or is just in the spotlight at that moment— like how Jay Z is Beyonce's husband and Britney Spears' husband Sam is never mentioned unless in reference to her? Well, that's an example of this dynamic, and what makes these men Kens is an excitement to support the women in their lives as they thrive and flourish, and that's not very common because men can and do be haters, especially when they feel less successful than their wives/girlfriends or they may simply not like the idea of their partner being admired and appreciated by other people, we see it happen every day.
In the spirit of all things peppy, wholesome and pink, here's our top 10 list of fictional and celebrity relationships that model this dynamic— women doing awesome things and their lovely boyfriends or husbands who are just happy to be there, offering support.
P.S.A: This is not to say that the men in the celebrity relationships are not famous and maybe even iconic in their own right, but the women are just undeniably stars in a league of their own separate from their partners. We're celebrating Barbie, and that takes nothing away from Ken.
1. Katniss and Peeta:
Katniss is the face of the revolution, the 'Mockingjay', a living symbol of defiance against the Capitol. She is brave, strong-willed and resourceful. Peeta on the other hand is generous, kind and charming. He had a crush on her for years and then fell in love with her as they fought for their lives, and she soon fell in love right back. His doe eyes, and clear admiration for and support of Katniss earn him a spot on our list. As she heralds the revolution, he stands beside her holding her hand literally and figuratively, and what's more Ken-tastic than that? 
2. Ciara and Russel Wilson:
Just look at this picture, her undeniable awesomeness and him in the background, looking on admiringly, things we love to see. Russel is a successful American football quarterback, loving father and adoring husband of Ciara. His unashamed declarations of love and support for his wife even when he is called a "simp" for it by unwashed men on the internet are peak Ken-ergy.
3. Ross and Rachael:
No offence, but Ross from Friends was kind of a loser. Not only did he cheat on her (with his shoddy "we were on a break!" defence), but I also always believed she deserved and could do much better. To top it off, she left her dream job to be with him in the end, annoying really. Rachael was a gorgeous and successful woman, and Ross was a nerd in a way that was only half endearing. Regardless, she was truly everything, his Barbie, and through all his faults and flaws, he loved and admired her, and was her Ken. 
4. Beyoncé and Jay Z:
Jay Z is a star, no debate, but Beyoncé is a star to the stars, the greatest performer alive; argue with yourself if you believe otherwise. Asides from the incident that will not be named (picture Solange walking out of the elevator) and the questionable age difference at the time they met, they appear to be quite the cute couple. Bey clearly loves her husband, and he's always there to support her while she does legendary things. He's at her concerts, in the audience applauding her while she receives awards, and we've likely all seen their cute pictures spending time together. We rate him Ken over ten. 
5. Morticia and Gomez Addams:
A central part of Gomez Addams' lore is how much he loves his wife. He worships the ground she walks on. He's also the king of romance, with lines for days and cute nicknames, constantly showering her with adulation. They are the cutest, with poetic declarations of love always at the ready; "To live without you, only that would be torture; a day alone, only that would be death." It doesn't get better than that.
6. Zendaya and Tom Holland: 
She's his MJ, on and off the screen. Tom Holland is clearly in love, and he can't help but show it. The way he looks at her, talks about her, compliments her and is ever ready to scream his love from the roof tops makes him the ultimate Ken. And we totally get it, Zendaya is a gorgeous woman and talented actress, and apparently, she was his childhood celebrity crush. Does it get any cuter than that?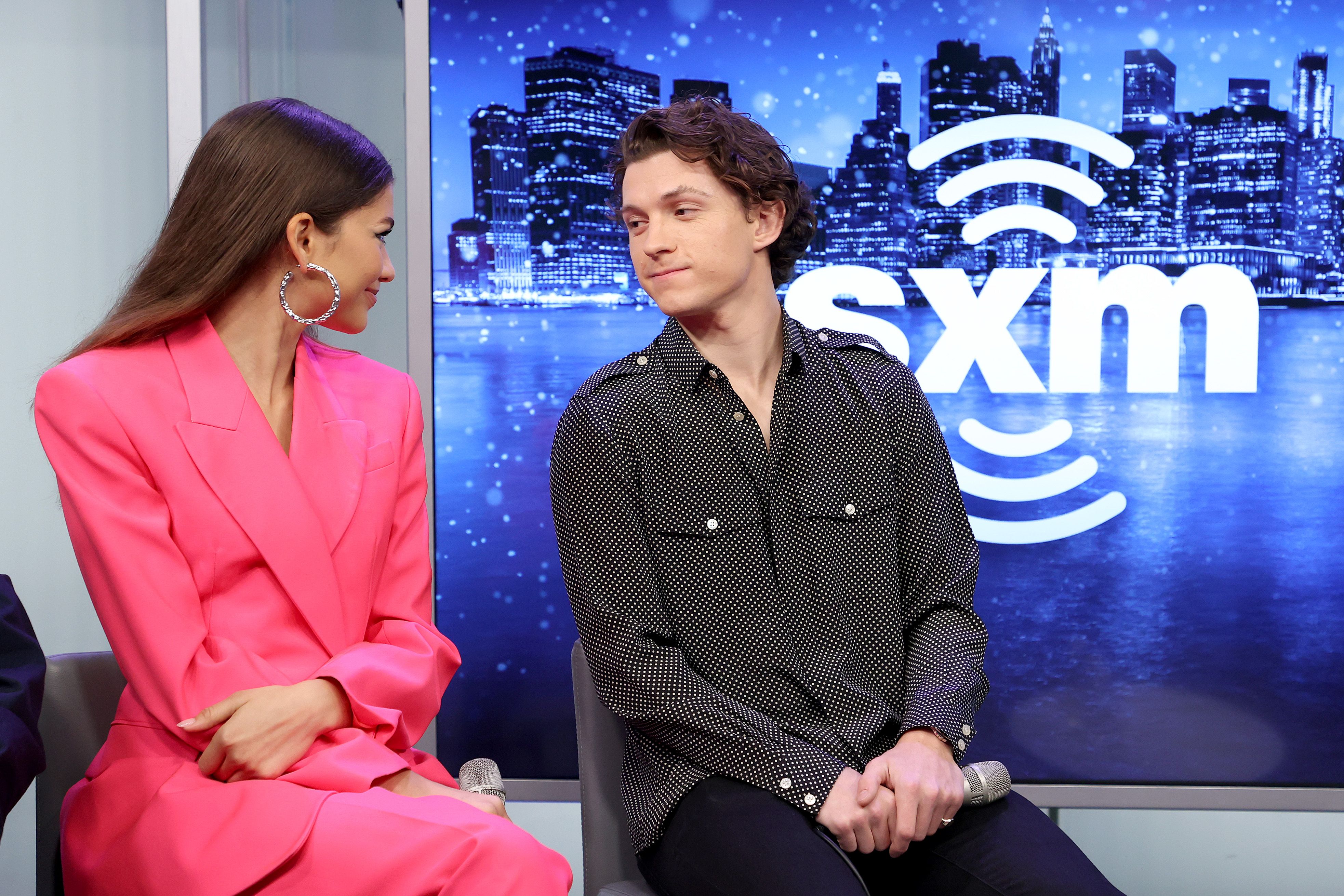 7. Wanda Maximoff (Scarlet Witch) and Vision:
Wanda is mother. After her traumatic experience of losing Vision to Thanos, she essentially fashions another reality where they can be together with their two sons who, spoiler, are also not real. Their idyllic suburban life is her doing, she created Vision from literally nothing using her magic, and she controls a whole town almost unconsciously. It doesn't get more powerful and badass than that. Vision is the loving and doting husband until he figures out what's going on and tries to get her to free the town. Even then, we see what's left of his Ken essence from the mind stone inside Wanda through his support and reassurance; "What is grief if not love persevering."
8. Rihanna and ASAP Rocky:
ASAP won. Rihanna has never failed at anything. She went from making absolute hits to running a wildly successful makeup brand. Additionally, Rihanna is, above all, a fashion icon, and ASAP Rocky matches her fly, something that's undoubtedly hard to do; I mean, she's Rihanna. He said it best, "'Cause she a fashion killa, and I'm a trendy n-gga." Since their coupling and the birth of their first son, Rihanna has been glowing even more than usual, and they seem happy in all their pictures, their ever-grinning baby especially.
9.Temi Otedola and Mr Eazi:
Our very own it-couple, the adorable pair have been together for ages and appear to be waxing strong still. Eazi went from being a supportive boyfriend to a supportive fiance. They're almost inseparable, and he clearly has a great relationship with her family as well. Omoluabi behaviour is very becoming of a Ken.
10. Serena Williams and Alexis Ohanian:
Serena Williams is the GOAT. She's the world No. 1 in singles and one of the most awarded tennis players of all time. She was the undisputed best before her retirement, and her husband is her ultimate cheerleader. The Reddit co-founder also took a full 16 weeks off following the birth of his daughter and is a firm advocate for paid family leave legislation. His vocal support for his wife earns him a spot on this list; what's cuter than "I'll be a self made billionaire one day, and most people will still know me as Serena's husband (or Olympia's dad), and that's fine by me."
It's always a pleasure to see men who unabashedly love and support the women in their lives especially when their wives are in the limelight. Society expects women to play a secondary role to their husbands, so it's good to flip the script and see men stand on the sidelines in support sometimes, fawning over their girlfriends and wives.