If you've been anywhere remotely close to the internet in the past couple of weeks, you've probably noticed a recurring colour on your feed. Pink hair, pink makeup, pink outfits, even pink houses — all in anticipation of the Barbie movie this weekend. And while we are sure you can not wait to see the film, we have one pressing question: what will you wear to see it?
No outfit inspo yet? Well, not to worry; we're here to help. For your ease, we curated a list of our favourite pink pieces, all from African brands. So get your credit cards ready because it's time for Barbiecore. 
Undress Me Anywhere?
One of our favourite things about Barbiecore, besides the obvious plenty of pink, is how easy it is to achieve. Unlike other aesthetic cores where you need a specific coat or a shade of brown for your nails (looking at you, dark academia), Barbiecore mostly revolves around clothes in shades like baby pink, Fuschia, baby blues, and lavender. It also involves materials like satin, chiffon, tulle, and tweed. So whatever your style, there is a Barbie-themed outfit here for you. 
1. Best modest: Orire Aqua Print Dress
2. Best back detailing: Orire Emy Dress in Pink Peacock
3. Best cutout: Riran JUU Dress in Fuschia
4. Best budget: ForStyleSake Butterfly Dress in Fuschia
5. Best midi: Rendoll Lagos Ami Midi Dress
6. Best mini: Desiree Iyama Olivia Cotton Mini Dress in Fuschia
Hang It Up
You'll need arm candy this pink season, and no, we're not talking about romantic partners or dates, although those wouldn't hurt either.
1. Best budget: Mairachamp's SALANG bag
2. Best splurge: Femi Handbags' Nikki Midi in pastel pink
3. Best compact: Marte Egele's Ese bag
4. Best leather: Bakwai Pink Coy bag
Ken Is Beach
Swimwear, resort wear and sundresses this Barbie season are all about bright colours, black and white stripes, and a ton of skin. Our favourites in this category are:
1. Best one piece: Andrea Iyamah Nisi One Piece in ruby
2. Best drama: Andrea Iyamah Mulan Bikin in peach and ruby
3. Best budget: The 'Ss' Label Sugarplum set
4. Best sundress: Ciar Naya Sundress in pink
Skirts Do It
Okay, so it's a little too much satin and chiffon for you. Try wearing a skirt instead with one of your favourite body suits, blouses, or crop tops. Desiree Iyama's Fernweh Taffeta Skirt in Fuschia is fashion excellence, and we're in awe of Chanda Culture's Kady Pleated Skirt in a mini too.
On the Double
In this house, we love matching sets. Here are some that have caught our eyes and our pockets in the last few months. 
1.CNUdesign's Peony crop suit set 
2. Bfits' frilly flirty set in hot pink
3. Kilentar Joyo Meje top and skirt in pale pink.
Barbie's Iconic Feet
Take a step into Barbie's world with some pink slippers for convenience by NNO and M.I.A Workshop.
Keep It Casual
Barbiecore is for more than just this season. Incorporate pink into your outfits for errands, play, and work with these pieces.
1. Best cosy: Elexiay's two-toned Amelia crop top sweater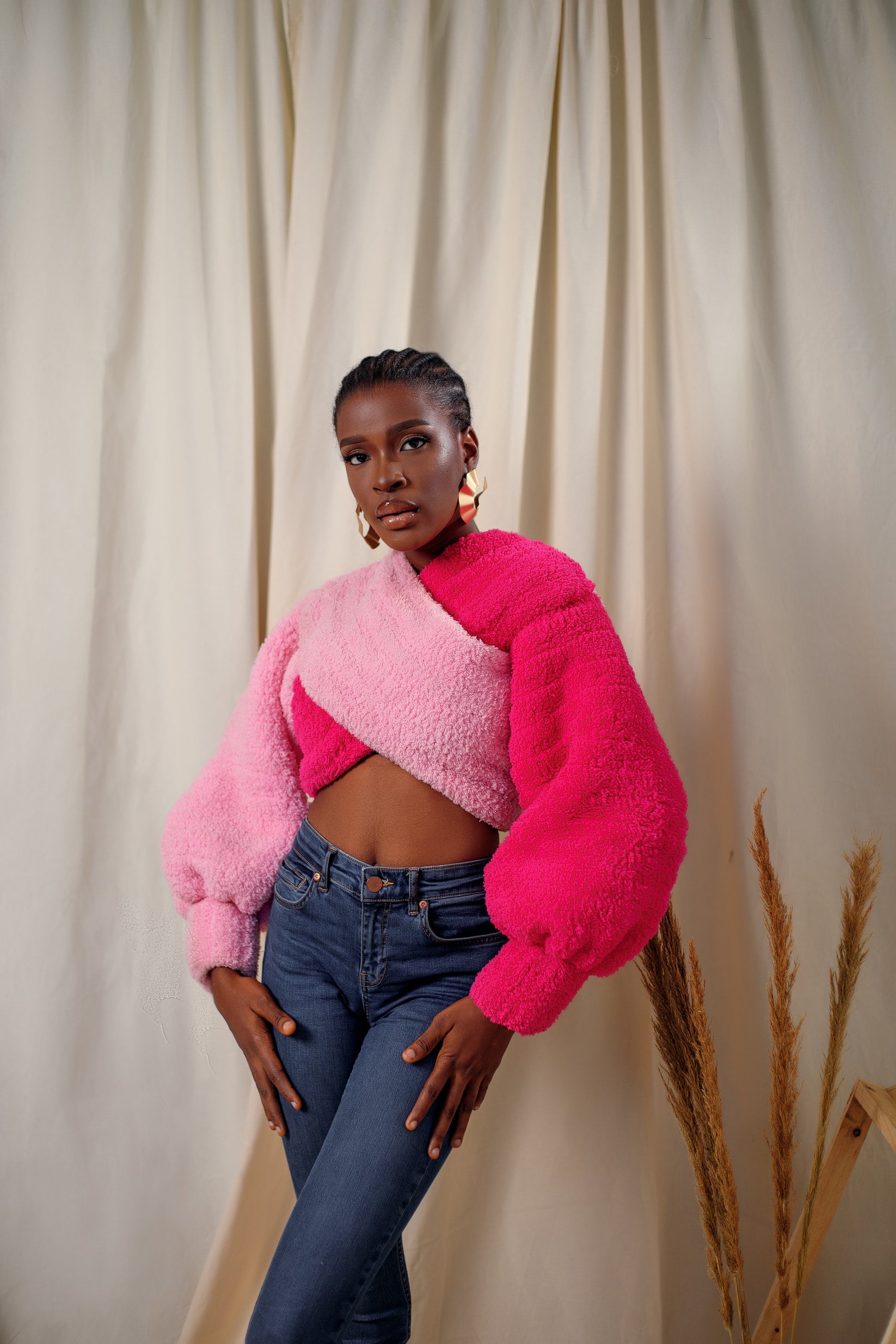 2. Best fur: Cataleya Luxury LoveSick Faux Fur Hat and Shoulder Bag
3. Best jewellery: Enehi's XO Textured Dangles in pink
4. Best leisure: Jbottoms Velour Hoodies